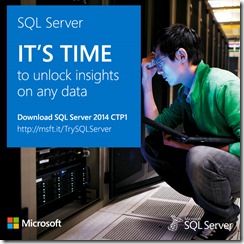 With all of the announcements as of late in Microsoft's Data Platform space, it can be challenging to keep up with the barrage of new information coming down the pike.  It seems thought In-Memory
OLTP has piqued the interest of many data professionals.  With recent announcements regarding
SQL14 at TechEd North America, the deluge begins.  So where can YOU find out more… Well, great news, there are plenty of resources available for you to learn more, including an opportunity for you to roll up you sleeves and dive in.  Certainly there is a strong focus on this release of SQL on "Hekaton", or "In Memory OLTP" as it is now being called.  For some In Memory OLTP IS a game changers, and a very anticipated feature indeed.
…and to get you started with In Memory OLTP, and SQL Server 2014 in general…
5 Steps to Wading Knee-Deep in SQL14
1. Download SQL Server 2014 CTP1
(That's MicrosoftSpeak for Community Technology Preview – and to be quite honest, I like this better than calling the release alpha or beta)


2. Read Kalen Delaney's In-Memory OLTP ("Hekaton") Whitepaper
from her Blog:  http://sqlblog.com/blogs/kalen_delaney/archive/2013/06/05/hekaton-whitepaper.aspx
Just as an aside, if you get an opportunity to take part in ANY education session that Kalen conducts, it is ALWAYS worth the money.   I saw Kalen at my 1st PASS pre-con session back in 2000 in San Francisco – I was as "gitty as a school girl."  I should have had her sign my "Inside SQL Server 7.0" – how did I miss that opportunity?  I sat right in the front row and took full advantage of every second of that day.
3. Watch some of the sessions from TechEd North America 2013 & TechEd Europe 2013
streaming online, or download them for later viewing on a plethora of device options
4.  Read Blogs about SQL14 from SQL Server Professionals like these:
Non – Hekaton:
UPDATE: July 16th! 
I can't believe I missed this one… Actually, I didn't miss it as much as realize that it wasn't 2014 material… how silly of me!  Nico is a PASSionate speaker, a vivacious, honest, caring individual.  I am honoured to call him a friend.  Niko is a Community Evangelist for PASS and  SQL Server MVP.  Prior to becoming a Community Evangelist, he  organized the first SQL Saturday outside of North America, in his home town of Lisbon, Portugal.  This guy breathes life into community!
5. Schedule some time for explorations!  
This isn't going to happen by osmosis, you need to dig in, put the hip waders on and trudge through some soupy water; it's the only way…
Enjoy the journey, and let me know if you have any other treasures that you'd like added.  As always, I welcome your comments!
Cheers!