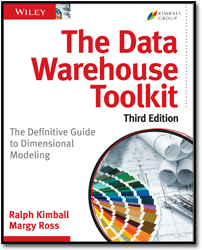 I have always been a fan of the Kimball Books for providing a playbook for how to do Data Warehousing and Business Intelligence (DW/BI), and I have always had an excuse for not biting the bullet and taking the course.  Now, my time is running out.  The team is retiring, as stated here.  I am taking the Dimensional Modeling in Depth this week, and then I am thinking Seattle in August might be a good time for the Lifecycle in Depth.  Of course I have all of their publication in both traditional paperback and e-book formats for a lighter backpack, but, I am hoping to fill in some of my blind spots and get some insight that you can only get when spending quality time with the industry leaders.  I am hoping the stories and conversations with the attendees will also

be enlightening and I can gain insights that I may not get in other forums.
Here in Irving, Texas, a hop, skip and a jump from the Dallas Fort-Worth (DFW) Airport, I will be taking part in the class in the Microsoft Training Center (MTC).  I chose the NYLO Dallas/Las Colinas Hotel as it can see the MTC from the front door of the hotel.  No cab, not rental car, no hassle!  The hotel has also received good ratings on the travels sights, and it is a incredibly reasonable rate for what you get.
So, my goal… one post a night capturing the moments as I reflect upon each day of training.
But wait there is more… I have so many other things to talk about, you may just be subjected to a few other posts this week, as I struggle to get some exciting news out the door on events in the Vancouver area in relation to IT and Data focused events in particular.
Until we next cross paths,
Scott